General Information
Where is Taipei?
Taipei is clearly a major business and economy hub in Northeast Asia. In the last 25 years, Taiwan has become a major destination in Asia for business events, business meetings and as a touristic destination with more than 8 million tourists visiting the island from all worldwide origin every year.

Taiwan is a transport and communications hub with over 62 airlines connecting destinations to 129 cities in more than 30 countries around the world. Taipei offers networking opportunities with over a thousand freight forwarding and logistic companies dealing sea and air freight, most of them with regular international activities. Taipei is also a city with very convenient transportation systems, bilingual (Chinese & English) signalization in the street and the MRT subway, adding convenience to the delegates while travelling through the city. And as EvaAir and China Air is part of the member with Star Alliance and Skyteam, travelling to Taipei is more convenient than ever.

Formosa is what the Portuguese called Taiwan when they came here in the 16th century and saw the island's verdant beauty. Taiwan is one of the most unsung tourist destinations in all of Asia, its modern emergence as an economic and industrial powerhouse still overshadowing the staggering breadth of natural, historic and culinary attractions this captivating island has to offer. A fascinating mix of technological innovation and traditional Chinese and aboriginal cultures and cuisines, Taiwan is one of the only places on earth where ancient religious and cultural practices still thrive in an overwhelmingly modernist landscape.
Language
The most popular foreign language in Taiwan is English, which is part of the regular school curriculum; however, to be on the safe side, when take a taxi in Taiwan, it is strongly advisable to prepare a note with your place of destination written in Chinese to show the taxi driver
Key Contact
2023 THRS Annual Conference in Conjunction with APHRS Summit and International Forum of Ventricular Arrhythmia
Secretariat
Tel: +886-2-23821530
Fax: +886-2-23821528
Email: thrs@thrs-scientific.org
Traveling to Taipei?
Taoyuan International Airport
The Taipei TTY Airport is the main gateway of Taiwan. It can be accessed via over 190 non-stop and direct flights from 56 major cities throughout the world. The carriers are Air Macau, Air New Zealand, Air Nippon, Angkor Airways, Asiana Airlines, Cathay Pacific, China Airlines, Eva Airways, Continental, Dragon Air, Japan Asia Airways, Korean Air, Far Eastern Air, Northwest, KLM, Malaysia Airlines, Mandarin Airlines, Palau Trans, Pacific Airlines, Philippine Airlines, Thai Airways, Transasia Airways, United Airlines and Vietnam Airlines.

For more information, please check (https://www.taoyuan-airport.com/english)


Taipei Songsang Airport
Situated in Metropolitan Taipei, the Taipei International Airport is the hub of domestic air transportation. It is easily accessible from the town centers.

For more information, please check (https://www.tsa.gov.tw/tsa/en/home.aspx)
Time Zone
Taiwan is 8 hours ahead of Greenwich Mean Time (GMT).
Tipping
Tipping is not customary in most of places in Taiwan since a 10% service charge is automatically added to meals.
Electricity
Taiwan uses electric current of 110 volts at 60 cycles, appliances from Europe, Australia or South-East Asia will need an adaptor or transformer. Many buildings have sockets with 220 volts especially for the use of air conditioners.

Currency and Banks
The Country's currency is the New Taiwan dollar (NT$) which has five denominations in paper note and five in coins. Paper note comes in NT$2000, NT$1000, NT$500, NT$200, and NT$100 denominations, and coins come in NT$50, NT$20, NT$10, NT$5 and NT$1 denominations. The exchange rate in recent months is around NT$ 30 for US$1. Foreign currencies can be exchanged at hotels, airports and government-designated banks. For different currencies, please visit the Currency Converter at Currency Conversion. Major credit cards are widely accepted, and traveler's checks may be accepted by tourist-oriented shops and at most international tourist hotels and banks. Banks open whole day from 09:00 to 15:30, Mon-Fri and closed at weekend and public holidays.
Weather
Taiwan enjoys a subtropical climate with warm weather all year round. The annual average temperature is 22 degrees Celsius with lowest temperatures ranging from 12 to 17 degrees Celsius (54-63 Fahrenheit). Summer starts from June. It begins to feel hot, with average low and high temperature respectively at 24 °C (75 °F) and 27 °C (80 °F). In the south part would feel hotter with temperature hitting 30 °C (86 °F).
VAT Refund Requirements
Foreign travelers holding non-ROC passports, ROC passports without registered household, or a re-entry permit.
Foreign travelers who make purchases of at least NT$3,000 on the same day from the same Tax Refund Shopping (TRS)-posted store and who take the purchased goods out of the country with them within 30 days of purchase.

Where to Claim Your Refund:
At the "Foreign Passenger VAT Refund Service Counter" at the airport or seaport of departure.

Refund Application Procedures:
Present Application Form for VAT Refund, passport or other designated travel document, purchased goods to be taken out of the country, and original copy of uniform invoice to the customs officer.
After verification, the customs officer will issue a "VAT Refund Assessment Certificate." resent the "VAT Refund Assessment Certificate" to the designated bank at the airport or seaport for issuance of refund due.
Travelling around Taipei
Taipei Mass Rapid Transit System (MRT)
The system operates according to a spoke-hub distribution paradigm, with six lines running radically outward from central Taipei. The metro system operates from 6 am to midnight daily with extended services during special events. Trains operate at intervals of 1.5 to 15 minutes depending on the line and time of day. A "Single-journey Ticket" costs between NT$20 to NT$65 depends on distance. A NT$200 One-day Pass purchased from a service booth will allow unlimited travel among all MRT lines within one day. Smoking, eating, drinking or gum chewing are strictly prohibited on all MRT trains.

For more information please visit: Metro Taipei


Taxi
Major cities have an abundance of taxis. Charges are NT$70 for the first 1.25 km and NT$5 for each additional 250 meters. An additional NT$5 is charged for every two minutes of waiting, and a NT$20 surcharge is added to fares between 11 p.m. and 6 a.m. Basically, taxi fares in all major cities are set by local city government itself and are in a minor discrepancy. Out-of-town or long-distance travels may not apply to meter charge; travelers are suggested to confirm charging method before getting on taxi. Most drivers do not speak English, so it is a good idea to have hotel personnel write both your destination and your hotel's name and address in Chinese, along with the projected cost of each one-way trip.


Bus
Buses in Taipei are numerous and bus routes are well-planned. Once you get a hang of it, buses are a great way to get around the city. Buses take EasyCard or cash. Prices are calculated by distance. Tickets come in three price levels: One-segment, Two-segment and Three segment.



Tickets
Coin: One-segment ticket, regular NT$15; Two-segment ticket, regular NT$30; Three-segment, NT$45. Most passengers will only need a One-segment ticket. The bus driver will notify you if you need to pay more for a Two or Three-segment ticket.


* Note: Be sure to have the exact ticket amount as buses will not give change.

EasyCard: Gently sweep card over the sensor area marked by the EasyCard logo (or insert token into the slot) on the ticket reader. The beep you hear indicates that credit corresponding to the ticket amount has been deducted from your card.
Taking the bus
Passengers can get on and off a bus from the front or back door. Please check to see if passengers must pay before or after the bus ride.

Visa Info
Visa Exempt Entry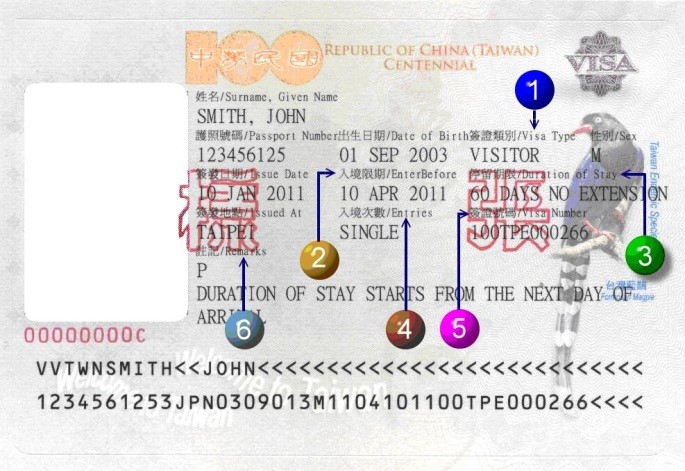 Foreign nationals may obtain tourist visas if they hold foreign passports or travel documents valid for more than six months in the Taiwan for the purposes of sightseeing, business, family visits, study or training, medical treatment, or other legitimate activities. MICE Advancement Program in Taiwan also has launched a "Special Landing Visa" to better serve delegates from countries that do not have a Taiwan overseas mission.

Visa is in general required for foreign-passport holders upon entry to Taiwan. However, if delegate's passport and the length of the stay satisfy the following terms and met the following requirements, NO VISA is required.


Your passport is valid for more than 6 months after entry; and
A confirmed return air ticket or a sea ticket and visa for the next destination and a seat reservation for departure have already confirmed.
No criminal record or not prohibited by the local authorities.
And you are the passport holders of following countries.
Permits a duration of stay up to 30~90 days

| | |
| --- | --- |
| Asia | Israel / Japan / Republic of Korea / Singapore / Malaysia |
| North America | U.S.A / Canada |
| Oceania | Australia / New Zealand |
| Europe | Austria / Belgium / Bulgaria / Croatia / Cyprus /Czech Republic / Denmark / Estonia / Finland / France / Germany / Greece / Hungary / Iceland / Ireland / Italy / Latvia / Liechtenstein / Lithuania / Luxembourg / Malta / Monaco / Netherlands / Norway / Poland / Portugal / Romania / Slovakia / Slovenia / Spain / Sweden / Switzerland / U.K. and Vatican City State |

Furthermore, there are some nationals of the designated countries may apply for Taiwan visitor visa in different ways.


Designated Countries Applying for Visitor Visas

| | |
| --- | --- |
| Asia | Afghanistan / Bangladesh / Bhutan / Burma / Cambodia / India (Identity Certificate) / Iran / Iraq / Laos / Myanmar / Nepal / Pakistan / Sri Lanka / Syria |
| Africa | Algeria / Cameroon / Ghana / Nigeria / Senegal / Somalia |
| Latin | America & Caribbean Cuba |
Notices:

Nationals from several countries applying for visitor visas to Taiwan. must submit the application to the designated overseas missions such as,
Burma/Myanmar (Only at Taipei Economic and Cultural Office in Thailand)
Nepal and India (Identity Certificate) (Only at Taipei Economic and Cultural Center in New Delhi)
Nigeria and Ghana (Only at the Trade Mission of the ROC in Nigeria)


Nationals from the following countries are obliged to obtain a Guarantee from their sponsors in Taiwan:
Burma/Myanmar(The visa applicants are obliged to obtain a Guarantee from their sponsors in Taiwan and then submit it together with other required documents of visa application to Taipei Economic and Cultural Office in Thailand)
As for other particular cases of visa application from the designated countries, the overseas missions of the R.O.C. might request a Guarantee from the applicant's sponsor in Taiwan if necessary.

However, the rest of countries passport holder can all apply the Visitor Visa for Attending Conference and Exhibition when completing following requirement.
VISITOR VISA FOR ATTENDING CONFERENCE / EXHIBITION
Requirements
Description
1、 Completed & signed application form
Can be accessed from the website: https://visawebapp.boca.gov.tw/
2、 Two passport-size photos in color within 6 months
Photo with plain colored background
3、 Passport (original & photocopy)
Valid for 6 months with blank pages
4、 Evidence of documents
Invitation Letter or proof of exhibition and applicant's ID
5、 Other additional documents may be required during processing
Air/ sea ticket or electronic ticket or proof of a travel agency
6、 Fee
USD50(NTD1,600) for single entry,
USD100(NTD3,200) for multiple entry
Procedures:

Applicants can lodge their applications with the necessary documents and statutory fee at Taiwan overseas missions.
Interview may be required when necessary.

Notices:
Visas are issued as stipulated by Article 12 of the Statute Governing Issuance of ROC Visas for Foreign Passports. As a sovereign nation, the ROC has the right to refuse applications for visas without providing any explanation for such decisions; visa application fee is not refundable. (USD$50.00)

For detail of the visitor visa application, please visit the Bureau of Consular Affairs' (BOCA) website at https://www.boca.gov.tw/mp-2.html